Opening Doors to Famous Poetry and Prose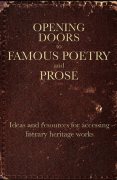 Publisher:
Crown House Publishing
Share this page:
Although this beautifully compiled collection of learning units based around inspirational literary texts is explicitly targeted at primary school teachers, there is no reason at all why the activities, tips and advice wouldn't work just as effectively for KS3 learners – and even beyond, with some adaptation. The fact is, in an ideal world all young people would start Y7 already possessed of many of the skills needed to access and understand 'famous poetry and prose', having been introduced to great literature by passionate educators from an early age. But this isn't an ideal world, even after some Govian tinkering, and it does students a disservice simply to assume that if they are unable to respond appropriately and personally to the works presented to them as teenagers, it must be because they have no interest in that part of our culture. Bob Cox's approach is one that encourages genuine engagement and profound comprehension; in short, this book could change the way your class thinks about literature, for the better – and permanently.