At a glance
• Comprehensive write-in workbooks to support lower-attaining students
• Sample answers, guided activities and practice questions develop exam skills
• Reflects the latest exam board guidance
• Easy to follow structure with scaffolded learning
• Online answers and marking schemes
---
Workbooks that students can write in give them a sense of ownership and a degree of control over curriculum content.
They are useful for all attainment levels, because they provide a solid structure and come with safety nets of support and advice for steadying nerves and filling gaps.
OUP has just published some differentiated workbooks designed to be used with its GCSE Religious Studies for Edexcel A (9-1) Catholic Christianity with Islam and Judaism Student Book and Revision Guide.
I'm looking at the Catholic Christianity for Paper 1A workbook and it certainly impresses. This is aimed at lower-attaining students and contains a varied collection of carefully crafted activities that cover core content and key terms, authored by Catholic and SENCO experts.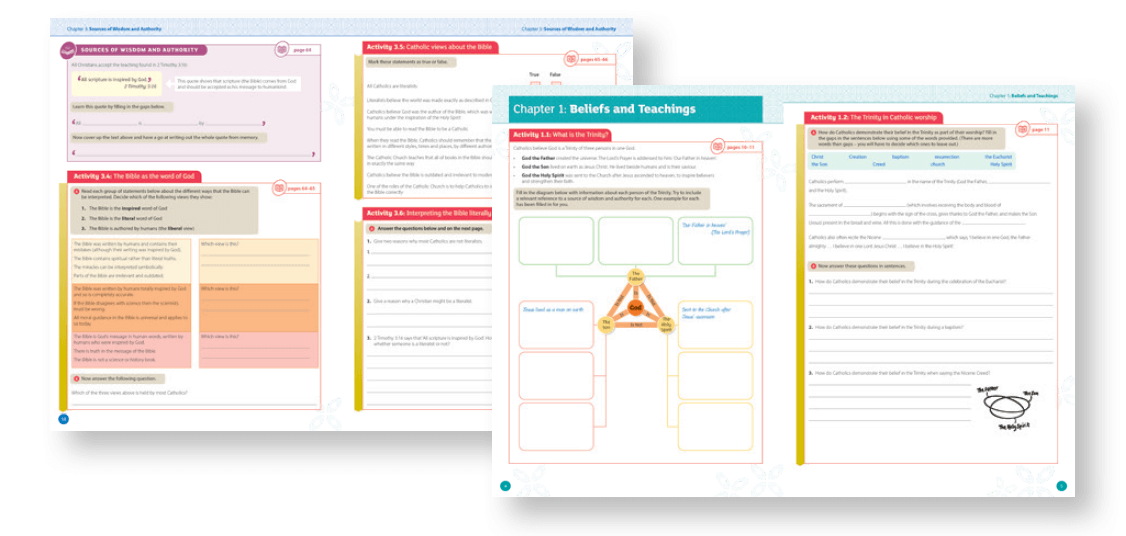 There are five chapters that cover beliefs and teachings; practices; sources of wisdom and authority; forms of expression and ways of life; and exam practice.
The content is engineered so that learning by doing takes centre stage alongside robust self-assessment; students are expected to interact with the workbook and take responsibility for their own progress.
The rich variety of activities include true-false statements, cloze passages, matching exercises, multiple choice, ranking, comprehension questions and writing frames.
These are all interspersed with clear diagrams and photos, concise explanations, useful terms and top tips that are student-friendly, with clear links and signposts to the Student Book for more in-depth coverage.
A 'Useful terms' section is included in each chapter, so students can measure and build on their own progress with specialist vocabulary.
Activities are also designed for students to memorise short quotes from religious sources and to be confident in developing arguments, evaluating and expanding ideas.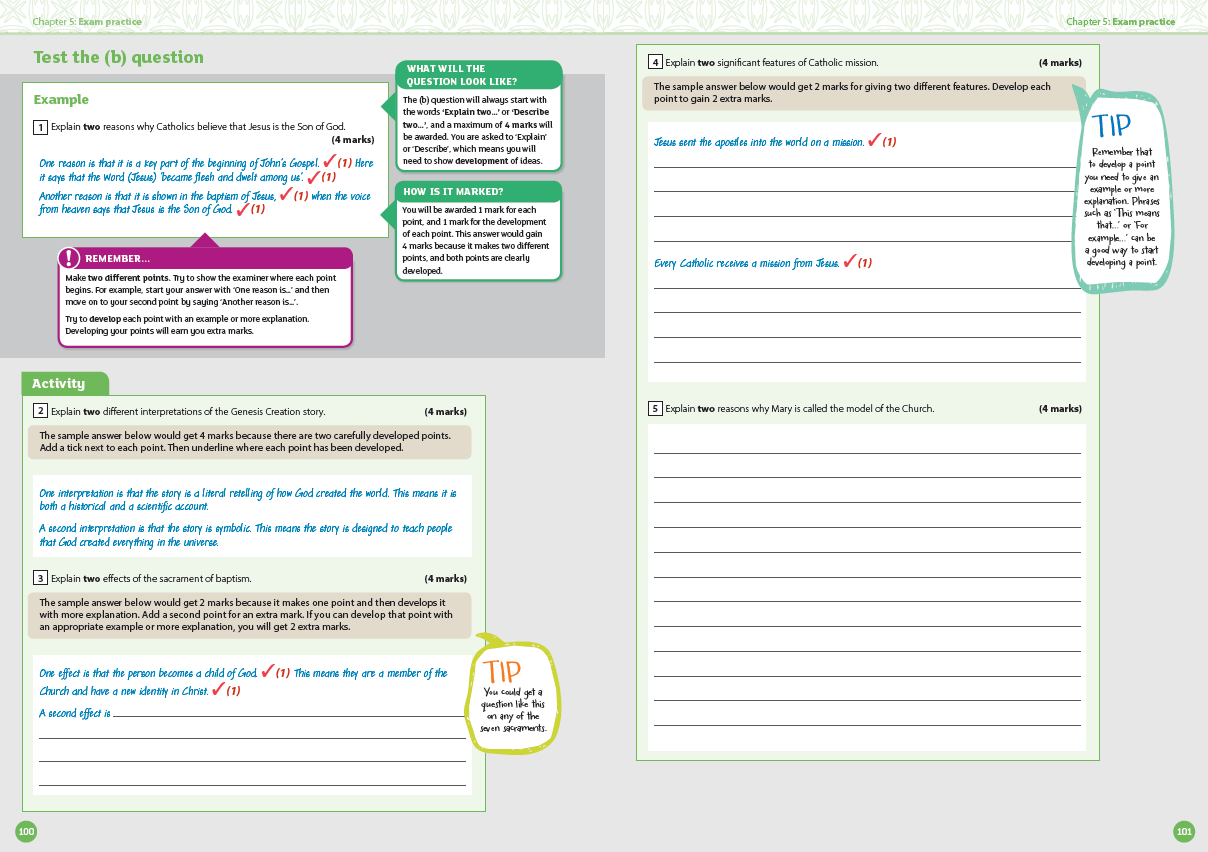 The workbook is very well-structured and colourful throughout, so there is plenty for students to engage with to build confidence, poise and resilience.
Plenty of exam practice questions of varying styles are included to replicate the real thing and these are bolstered by handy hints and key skills advice.
All the answers can be found online, enabling learners to mark their own work; they can also be used as a platform to revise from. And at just £5.99 per book, the series represents excellent value for money.
---
Verdict
• Offers an appropriate level of depth for the intended audience
• Activities have been scrupulously scaffolded for maximum support
• Superbly linked activities that develop confidence and build exam techniques
• Engaging, student-friendly design and content offering realistic stretch and cracking support
• Perfect for classroom or homework use, independent study, review and exam preparation
Upgrade if
You are looking for RS workbooks that put manageable study steps at their heart and aim to help students feel supported and prepared for GCSE success.
---
Take a look at the workbooks here, check out the OUP RE blog or find out more at main OUP site at global.oup.com.
Reviewed by John Dabell
You may also be interested in...