Consent, Consent, Consent – The Central Issue At The Heart Of Great SRE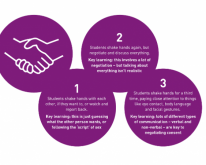 Key Stage:
3 & 4
Subject:
Pigeon Hole, PSHE
Share this page:
In the fifth article in his series, Justin Hancock of DO… discusses the most important aspect of SRE – consent.
Consent is the key to mutually enjoyable and respectful sex and relationships. Sadly, experiences of non-consensual sex are common, and can be very traumatic and damaging.
Yet even though it's such an important topic, consent is rarely specifically covered in sex and relationships education (SRE) – when discussing the biology of sex, it's often assumed that consent is a given, so it just isn't discussed. And sometimes, when it is talked about, it's reduced to straightforward messages such as 'yes means yes, no means no'.
Reducing consent down to a simple one-off negotiation is unrealistic – it's not how consent works in practice. 'No' and 'yes' can be difficult words to say: it takes a lot of confidence to say 'no', and not everyone has this confidence.
How often do we use 'maybe' or say things like 'I'm a bit tired to go out' when we actually mean 'no'? The absence of a 'no' does not automatically mean 'yes', just as the absence of a 'yes' does not mean 'no'.
Furthermore, consent is an ongoing thing. Even if we have explicitly agreed to do something, that agreement is only good for that moment and during an activity we may change our minds.
As you might have read before in my other articles, young people are becoming increasingly disengaged with SRE that focuses on over-simplistic messages that tell them what to think instead of giving them the opportunity to learn for themselves.
Clear thinking
So it's clear that SRE needs to work harder: it needs to engage young people and give them a better understanding of consent – an understanding that goes further than 'yes means yes, no means no'.
With DO… we wanted to engage with young people by creating conversations about consent in the classroom. To do this, we've created lessons that give students the opportunity to practice negotiating consent, experiencing what it feels like, and noticing how difficult it can be.
The DO… lesson plans include an experiential learning activity I developed with Dr Meg-John Barker (activist-academic specialising in sex, gender and relationships), which has been adapted for the classroom by Alice Hoyle (SRE consultant and member of the DO… collaboration).
In this activity, students practise consent by negotiating a series of handshakes: an interaction that people do on a regular basis, but often without consent or negotiation.
Students complete different types of handshake – one where they don't get to communicate with each other, and one where they verbally negotiate what they want. From this, they learn how it can feel to express their needs and to have these needs met, as well as exploring how hard that can be.
Students are then able to explore the middle-ground between the two handshakes. By paying attention to both verbal and non-verbal communication, we can get a sense of a mutual agreement and connection. Students can also get a clearer sense of what may be enjoyable for themselves and for the other person.
It's a unique experiential learning tool that we've found students really enjoy: they get a real sense of what consent feels like, that it's an everyday thing, and how they can practice it in their day-to-day lives.
Like all great SRE, it doesn't just tell them what consent is and why they should do it – they engage with the idea and learn for themselves.
Step 1
Students shake hands with each other, if they want to, or watch and report back.
Key learning: this is just guessing what the other person wants, or following the 'script' of sex
Step 2
Students shake hands again, but negotiate and discuss everything.
Key learning: this involves a lot of negotiation – but talking about everything isn't realistic
Step 3
Students shake hands for a third time, paying close attention to things like eye contact, body language and facial gestures.
Key learning: lots of different types of communication – verbal and non-verbal – are key to negotiating consent
By asking students to complete a series of handshakes and discuss each in turn, they have the chance to experience what consent feels and looks like.
To see the full lesson plan on "Communication, consent and sex" go to page 49 of the PDF available here.
• To understand consent we need more than 'yes' and 'no': often we don't use those words, and the absence of 'no' does not mean 'yes'. By learning how to pay attention to the other person in a relationship, and practising this, young people can learn how consent is an ongoing element of respectful relationships.
Take-home messages
• By giving students an opportunity to learn how to do consent, rather than just telling them what to do, they can practice how to talk about their own needs, how to listen to the needs of others, and how to notice what it feels like when something is mutual.
For resources and support to make great SRE happen in your school, visit dosreforschools.com.
DO… is a unique collaboration between leading SRE experts and Durex to make great SRE happen in our secondary schools. Justin Hancock is a member of the DO… collaboration – he's worked as an SRE specialist since 1999. He'll be writing a series of exclusive articles about how to best approach SRE.