Update Your Lessons With An Ultra Short Throw Projector At The Cutting Edge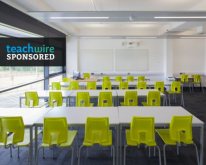 Key Stage:
3&4
Subject:
FM (Facilities Management)
Share this page:
Classroom projectors are like second teachers, co-pilots, teaching assistants, octopuses and multimedia magicians all rolled into one. They are adaptable, flexible, fun and boast lots of benefits, as they can:
maximise engagement and attention

allow for an incredible diversity of activities for vibrant teaching

enable us to gamify lessons

support real-time interactive activities

improve classroom management

fuel knowledge and understanding

promote superior retention

enhance blended learning

encourage independence and collaboration
Projectors can vastly improve the teaching and learning experience, then… but only when they behave themselves. Our dusty old thing still uses a lamp - and how much money the school must have spent on replacements over the years I dread to think. It's not very green, and not convenient for a busy class teacher like myself. Projectors allow for a greater spontaneity in teaching - but when a lamp can't keep its brightness or burns out without warning then we are all left in the dark. It's not too much to ask for consistent light output is it?
Wish List
On top of this, I want lamp-free technology, I want brightness, I want absolute reliability, top performance and something that is going to last, with real eco credentials. An ultra short throw lens is essential, and no cumbersome wiring either, thank you. Fit for continuous use would also be nice.
I'd also love an app that makes it possible to establish a network connection between a smart device and a projector so I can project documents and images stored in the device's memory along with real-time images picked up by the device's built-in camera.
Pipe dream? No, far from it, all this is possible and I've got my eyes trained on something special. It's the Casio Ultra Short Throw (UST) projector powered by mercury-free Laser and LED Hybrid technology which means it is lamp-free and can last for at least 5 years. If anything was to happen you have total peace of mind due to its 5 year / 10,000 warranty. Bliss! Just imagine being able to project an 80inch image from less than a 30cm ruler away and achieve full brightness in only five seconds; well, this can.
It's miles better than what I am using at the moment and I want one. How do I know? Well, I've listened to schools who are already equipped…
Aberdare Community School in Wales recently invested in 70 Casio UST projectors because they were looking for "the best education technology to deliver our leading teaching experience".
Case study
Aberdale wanted quality, reliability, flexibility and a sustainable investment and they haven't been disappointed reporting that the Casio UST "… is simple, easy to use and the peace of mind we get from not having to worry about maintenance and replacement lamps is ideal. I wouldn't hesitate to continue to invest in Casio in the future." (To read more about Aberdare and other case studies, click here.)
Flexible teaching
The Casio UST projector is an outstanding projector in terms of reliability and performance and is ideal for a range of learning environments. It doesn't have to be fixed to the ceiling either because it's mobile. You can switch it off, move it, turn it back on and it won't lose its peak performance because lamp-free means there is no cooling down…so no class time wasted, either.
All I have to do is convince the senior management team to take a look at this stress-free and safe revolutionary learning unit; because when they do, I know they'll be impressed.
Author, John Dabell.
The Casio UST Series – Key Features
Environmentally friendly

Highly cost effective – no replacement parts

20,000 hour lifetime

Eliminates screen shadowing

Vivid colours throughout lifetime

Dust resistant structure

Optimum image brightness – auto brightness control depending on environment

Low power consumption

Virtually no maintenance

Click here for more information and videos and read part 2 in this series here.