Tony Kumar Dhir, Economics Teacher at Bexley Grammar School in Kent, discusses how the census can be used to encourage students to focus on the future, get involved with their community and become active citizens…
The current pandemic has highlighted the importance of future-planning, and Tony discusses how the census allows students to be proactive instead of reactive in determining their destiny.
One of the key topics I have explored with my students this year is the importance of the census, which is run by the Office for National Statistics (ONS). Students need to be informed that the census is not just something that happens occasionally, it is a survey that will determine funding and decisions for their futures.
Everyone in England and Wales needs to be a part of the census and the time to get involved, and effect change, is now.
That is why the Census Secondary Education Programme offers a great opportunity for teachers to discuss the importance of the census with students and encourage them to spread the word in their own local area through the 'It's Our Story' competition.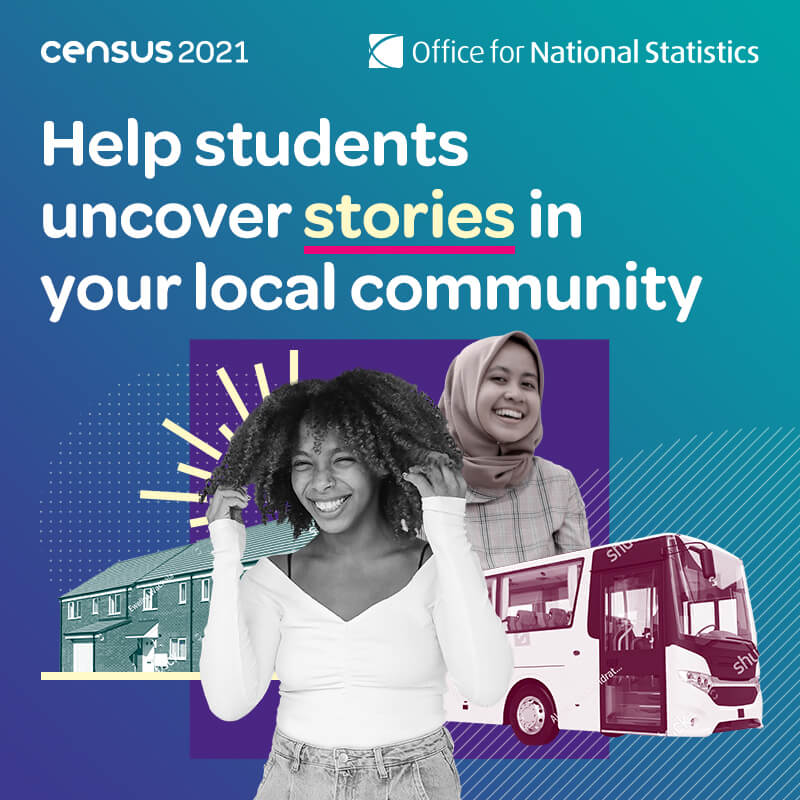 The power of real-life stories
One of the best ways to engage students is to use real-world examples that are current and allow students to see themselves in these stories. Keeping things topical and looking forward to the future is a great way to engage students, rather than trying to get them to relate to something in the past.
The census resources have links across the curriculum from geography, history and maths to citizenship and PSHE. The resources offer an in-depth look at community needs and can help students strengthen the connection between their own identities and how that fits within their wider community.
As an economics teacher, it's great to be able to access and discuss accurate and up-to-date ONS data, related to population and funding. This allows me to connect topics within the curriculum to the census and show how data plays an important part in these stories.
It's important for all students, not only GCSE and 6th form, to understand the impact of this census data. At my school, we follow the IBDP programme in Economics in our 6th form instead of A Levels and that allows students and teachers to use the Census to a larger extent as part of student internal assessments.
The census then provides students with an opportunity to understand that they have the ability to influence decisions that are made in their community, region and the wider country.
Planning for the future
While the pandemic has been difficult for teachers and students especially, it is critical that we continue to plan for the future and don't let opportunities like the census pass us by.
The census will contribute to plans for the entire country and getting involved now means our voices can be heard within our communities.
Life will continue once the pandemic is over and it's important we proactively take account of important topics such as healthcare, community funding, housing and of course, education. The census is one way that we can do that.
The census resources emphasise this idea of being proactive and show that local community action can contribute towards a wider plan for the country.
The resources ask students to consider how the census impacts different aspects of society and teaches students to be responsible, active citizens who help shape decisions within their community.
With Census Day fast approaching on Sunday 21 March, I would encourage all teachers to reach out to their students and colleagues, to take a look at the census resources available on censuseducation.org.uk.
I'd also encourage students to get involved with the 'It's Our Story' competition for the chance to win some great prizes for themselves and their schools.