Bringing learning outside of the classroom is hugely beneficial for students to delve into the real world and apply their learnings in a brand new environment.
Planning an educational trip that hits the sweet spot of meeting curriculum requirements and capturing students imaginations can be tricky.
A school trip to a zoo or wildlife park is a popular choice due to the wide range of subject links and the enjoyment of getting up close to animals and nature.
The Zoological Society of London (ZSL) has two zoos in the UK. London Zoo, the world's oldest scientific zoo, home to over 750 species of animals and Whipsnade Zoo, the UK's largest zoo, set in 600 acres of beautiful scenery with some of the largest, rarest and most majestic animals alive.
Education is at the heart of ZSL, and as an animal conservation charity the zoos play a vital role in teaching students about the impact we have on wildlife, our environment and how we can all help bring endangered species back from the brink of extinction.
Linking your topic of study to a day at the zoo is simple with ZSL – choose from a range of national curriculum linked sessions, delivering a truly unique interactive learning experience.
The sessions are available for Foundation, Key Stage 1, Key Stage 2, Key Stage 3, Key Stage 4, and post-16 studies programmes which you can book as part of your education visit.
Subject areas include habitats and life cycles for primary, and animal behaviour and enclosure design for secondary students.
Bringing ZSL experts to your classroom is a unique way to engage your students without leaving the school grounds.
Ideal as a follow-on from your zoo visit or as a standalone, these digital sessions are delivered via Skype to your class, or even as an assembly.
Prices range from £50-£100. Free-of-charge sessions are available to book during British Science Week and Biology Week. They book up fast so get in touch to choose your slot.
Free resources are also available to complement your visit. Whether you're teaching primary or secondary ZSL has a range of downloadable material for Whipsnade and London Zoo.
Why not also download the Nature Trail, ideal for primary students, and take your class on a journey around the zoo, completing activities along the way.
So why plan a school trip with ZSL?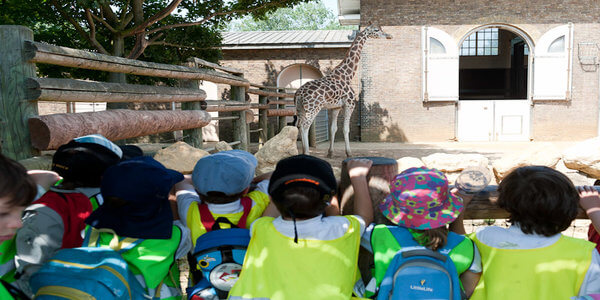 There are many reasons to choose London or Whipsnade Zoo as your choice of school trip:
• Education sessions linked to the National Curriculum
• Free adult entry tickets based on supervision ratios
• Free downloadable online resources to support your visit
• Free animal talks
• Free pre-visits for teachers
• Free coach parking at ZSL Whipsnade Zoo
• Close animal encounters in the walk-through animal exhibits
• Outreach programme brings the Zoo to your classroom
Why not explore the free resources for London Zoo and Whipsnade Zoo today?
How much does it cost?
ZSL offers heavily subsidised tickets to school groups. Prices for a self-guided trip range from £6-£8 per student, education sessions are £1.50 per student or free of charge from 4 September 2019 to 23 February 2020 at Whipsnade Zoo.
Digital outreach sessions are £50 for a class or £100 for an assembly.
How to book?
Self-guided visits are available to book online, simply fill in a reservation form or book online.
If you're booking onto any education sessions or digital outreach sessions call our friendly team on 0344 967 0831.
To book the free digital outreach sessions for British Science Week or Biology Week, email digitaloutreach@zsl.org.