Booking group flights offers many benefits, but as we know it can be very stressful, confusing and time consuming.
Aviate is the industry expert that can help organise flights and manage school group bookings from beginning to end – keeping it simple.
The majority of Aviate Group bookings are school groups, seeking worldwide expeditions, charity and voluntary projects, sporting events and language tours to name just a few.
Aviate has over 50 direct airline agreements including; Emirates, Lufthansa, Qatar Airways, Etihad Airways, Air France-KLM, Norwegian, South African Airways and United Airlines.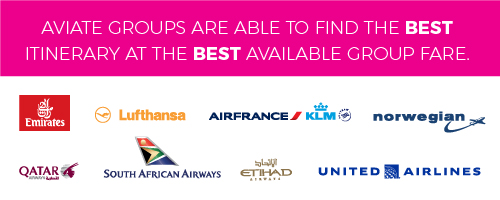 More benefits…
There are so many benefits to booking a group fare rather than booking flights online. Those fares and flights published online are generally cheaper, however, they are based only on nine seats or less and generally require instant names, instant purchase with no flexibility or changes.
If you book a group through Aviate, you will be able to take advantage of competitive and comparable group fares direct from the airline. Plus, you'll be granted an extended holding period at no fee or obligation.
What's more, Aviate Groups requires only a minimal deposit amount to confirm your group booking, even after confirmation, and in most cases you can reduce your group size by up to 20% without airline charge!
Rest assured – Aviate Groups provides financial protection and are ABTA and ATOL bonded.
Names and balance are due nearer departure time, and with reminders from the team at Aviate, you will not miss a deadline.
Tickets are issued by Aviate and group seating where available will be confirmed.
Require wheelchair assistance? A separate check-in desk? Airport check-in signage? Access baggage? Aviate Groups can help with that too!
Are you planning an overseas school trip? Contact Aviate Groups for a quote on 0151 350 1115, email groups@aviateworld.com and find out more at aviateworld.com/groups.